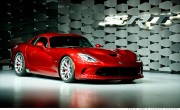 The Dodge Viper has been out of production since 2010 but Chrysler Group unveiled a new version, powered by a huge 8.4 liter V10 engine, at the New York Auto Show.
The 640-horsepower car will be available only with a six-speed manual transmission.
The new car looks like the Vipers dating back to the car's introduction in the early 1990s.
http://money.cnn.com/galleries/2012/autos/1203/gallery.2012-new-york-auto-show/?source=linkedin