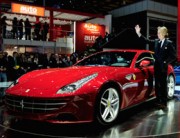 Maranello, 13th September 2012 – The Board of Directors of Ferrari S.p.A. met today under the chairmanship of Luca di Montezemolo to examine the company's financial results for the first six months of 2012.
As of June 30th, Ferrari once again registered a record in revenues and in the numbers of cars delivered. Revenues reached 1,208 million euro (+11.9 per cent), while a total of 3,664 homologated road cars were delivered to dealerships, an increase of 7.4 per cent.
Trading profits rose 13 per cent to 152.2 million euro, while net profits hit 100.8 million, an increase of 10 per cent.
http://www.ferrari.com/english/about_ferrari/corporate/Pages/120913-cor-record-results-for-ferrari-in-first-half-of-2012.aspx