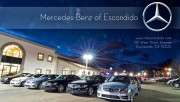 L&M Dealer Solutions is pleased and honored to announce its working relationships with a new client, Mercedes-Benz Escondido – California USA. This partnership will allow our company to apply our advanced expertise while also expanding our reach into new markets. It is a client like this that contribute to our success and growth.
#mbz #mbescondido @mbescondido #autodealership #staffing #staffingagency #valetparking #porters #valets #greeters #detailers #carwash
Thank you, as always, for your support!