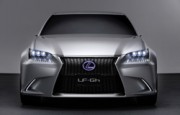 IN THE AUTOMOTIVE WORLD, the word "concept" has come to mean a life-size physical rendering of a designer's dream, or a preview of upcoming technologies and features.
But for a new Lexus that made its debut at the 2011 New York International Auto Show, the word takes on a wider meaning.
For starters, the Lexus LF-Gh is certainly a concept in the accepted automotive sense. It qualifies both as a flight of imagination and as a pointer to the future direction of Lexus.
https://secure.drivers.lexus.com/lexusdrivers/magazine/articles/Vehicle-Insider/LF-Gh