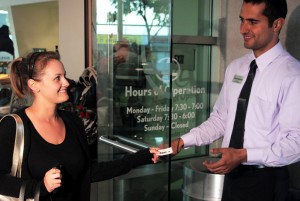 Team member duties will include many of the same that are performed by a Concierge. Not only will our Valet Attendants be expected to park cars, but also as an added service, will perform the following main duties:
Provide visual and immediate eye contact with the guest.
Greet every guest with a smile as they enter or leave the facility.
Work in a fast-paced environment with efficiency.
Open all vehicle doors for guest drop-offs and pick-ups.
Assist customers with the use of bluetooth, navigation system, garage door remote control or seat position settings, etc… – (special services).
Issue valet parking tickets and explain how to retrieve the vehicle when needed.
Assist guests with retrieving any luggage or belongings from the vehicle.
Always say 'please' and 'thank you' when speaking to a guest.
Provide information, directions, and any other assistance necessary to aid guests.
Exhibit professional attitudes while focusing on safety procedures.
Team work vision (working with your dealership employees as well).
Ability to multitask and be customer service oriented.
Anticipate customers' needs and assist them accordingly.
Keep the working areas clean and well organized.
Strive to reduce complaints by customers.
Anything else necessary or requested.