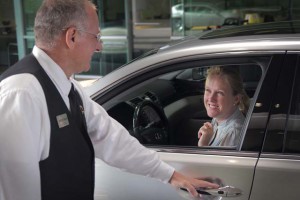 An auto porter serves a very important function in the auto industry, especially in a luxury new-car dealership. The job description of an auto porter may differ from business to business. The L&M porter assists with lot activity and transport and can support the detailer, other staff, mechanics or car washer, if needed. He/She must have a valid driver's license, as he/she will have to drive for many of his/her functions.
Lot Set Up
Lot setup is sometimes overseen by the auto porter. He/She will be responsible for parking vehicles on the lot to look attractive to buyers passing through or driving by. This is usually done at the instruction of the manager. Even if not overseeing the setup of the lot, he/she will at least be responsible for helping staff to organize and move cars around. For a service area, he/she might be responsible for bringing cars to a mechanic.
Gas Vehicles
Auto porters will spend a great deal of time getting in and out of cars all day. He will usually be responsible for making sure that there is enough gas in a vehicle for a test drive or will have to put gas in new cars coming off of the delivery truck. Salespeople or other staff may request that the porter put gas in a loaner car or other vehicle that needs it, like a customer car.
Stock in Vehicles
Other than gas, new cars or service vehicles need stock numbers while used cars need window stickers based on regulations, laws and dealer or shop preference. The porter will be responsible for adding a key tag with stock number to the newly arrived vehicle, sometimes writing stock information on the window and adding a paper stock number to the rear-view mirror as needed. Usually, the porter must stock in the vehicles and find a place for them before going to the service area for a PDI (Pre-Delivery Inspection) or for work.
Work with Service Department
When new vehicles come off of the delivery truck, the porter may have to bring them to service for the necessary PDI. Used vehicles or other vehicles on the lot may have a flat tire or need service attention, in which case the porter will bring the vehicle to the shop.
Transport of Vehicles or Customers
A porter may also have to go on "dealer swaps," or bring a lot vehicle to another dealership to pick up another car. She may also have to bring a vehicle to a detailer, car washer or after-market shop as requested. A porter may also have to give rides to customers as needed.