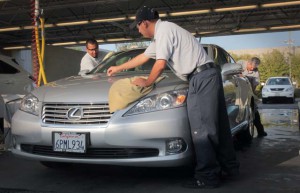 Car wash attendants often determine if a customer will return for repeat visits. Attendants' main responsibility is to clean the car. A lot of washes have a tunnel with wraps and brushes that clean the exterior of the car. Attendants are expected to perform various cleaning services in an efficient manner. Attendants with a variety of skills are valuable. Other duties may be assigned to an attendant from time to time.
Cleaning
Many types of cleaning services can be performed on a car. Vacuuming, cleaning the windows and applying tire dressing are considered as our most basic.
Physical Demands
Car washing involves standing and bending for long periods of time. Most cleaning is done in the shade, but the long hours can take their toll on anyone. Attendants need to take care of their bodies. That's why L&M makes sure that each of its team member gets the proper rest and drink enough of water to help them to perform their jobs at a high level all day. Initially, the physical demands will seem tough, but over time attendants should get used to them. Everything eventually will become routine.
Communication Skills
Dealing with directors, managers and customers is inevitable. There will always be questions and special requests about various cleaning topics. That's why L&M attendants are trained and oriented to explain in details all the different categories of services. All attendants will explain in a mild manner and advice the customers with alternative procedures. Most customers will understand and take our team's advice.
We also have a significant and essencial participation in other departments of the dealerships. E.g.: Concierge/Loaner Department/Dispatch/Parts/Cashiers/Etc.
Time Management
Sometimes it seems like everyone wants his car cleaned at the same time. L&M attendants will prioritize their time. Cleaning services like waxing and shampooing will take a lot longer than a simple vacuum. L&M attendants know how to determine what cars should be cleaned first, based on what time the customer arrived (waiters) and how long the job will take. Some customers are willing to wait a while; some will be in a hurry. Clean the vehicles of customers who are in a hurry first to get them on their way. All our team members are customer satisfaction oriented.
Special Touches – Customer and Loaner Vehicles
Besides our regular cleaning service routine, the car wash team is very well trained to provide some important touches to all vehicles leaving this department, such as: to ensure the radio is set to the customer's favorite station, have a clean dash board, the air-condition is adjusted to the right temperature, the seats are set to the appropriate position (1) or (2) and all mirrors are well adjusted.